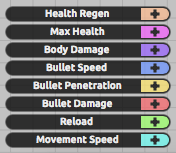 The following are
Builds
for certain types of
Tanks
and players. Working with the
33 skill points
 the player can use or have already used at 
level 45
, here is a collection of skill point investments according to the type of tank, such as the Sniper, the Octo Tank, etc. (Theoretically, there are 40,053,088 different builds!) Numbers correspond to the order of the
stats
, top to bottom: Health Regeneration, Max Health, Body Damage, Bullet Speed, Bullet Penetration, Bullet Damage, Reload, and Movement Speed. Most builds are centered around a specific tank, or tanks shown in their title. When using that build, make sure to choose your tank upgrades correctly.
Please note
that the builds on this page differ in quality, and that not all builds will work well for the player, as everyone plays the game differently. Use this page as a reference for how practical each build has been deemed by the diep community, and be sure to vote in the polls for any builds the player tests out so that future visitors will know which builds are useful and which builds are not. This page is designed to give the reader a basis from which they can begin to form their own style of play and so that they may discover their own perfect build, but it makes no pretense as to which builds are the best.
With this in mind, feel free to start browsing!
Note: In the window that pops up at first, please scroll down and select "Data". Please allow up to a week for your build to be reviewed before it is added to the page.