Not to be confused with the AI-controlled Protectors and Crashers.
Drones are weapons used by the Overseer branch the Overtrapper and the Hybrid. Most look like smaller versions of triangles. The only exception is the Necromancer's Drones, which are tinted squares.
Technical
All Drones (with the exceptions of Hybrid Drones, and Overtrapper Drones) can be controlled via left click or by using auto-fire, causing them follow your cursor. Right clicking or pressing shift will cause them to move away from the cursor. If the Drones are clumped together under the mouse pointer when doing this, they will spread out, but if the mouse pointer is to the right of the drones, they will go to the left and vice-versa. They will automatically seek the nearest player or Polygon if not controlled. A Hybrid's Drones cannot be controlled but will still seek nearby enemies, as well as the Overtrapper's Drones. A Mothership can have up to 16 controllable Drones, and 16 uncontrollable Protectors that will automatically protect the Mothership from enemy tanks.
Note: When a drone-controllable uses Auto Fire and Auto Spin simultaneously, the Drones will orbit the tank uncontrollably unless either auto function is off.
Users
Tanks that use controllable Drones are:
Tanks that use uncontrollable Drones are:
Tanks that use both controllable and uncontrollable partisans are:
Bosses that use Drones are:
Partisans
"No official name has been given? Oh, I see."
Partisan's name is conjectural. No official name has been given, and it is subject to change at any time.
Partisans are a special type of drone, only accessible by Battleship and Mothership. They are essentially the same, except
Undead
The Undead (also called Necromancer Drones) are a type of drone, only accessible by Necromancer and Summoner. They are essentially the same, except:
Trivia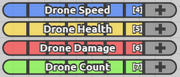 Ad blocker interference detected!
Wikia is a free-to-use site that makes money from advertising. We have a modified experience for viewers using ad blockers

Wikia is not accessible if you've made further modifications. Remove the custom ad blocker rule(s) and the page will load as expected.