Factory Drones or Minions are controllable Drones that look like small Tanks. They are smaller than a level 1 Tank even when they are at level 45. The only Tank that uses this type of Drone is the Factory, which can have a maximum of 6 Factory Drones.
Design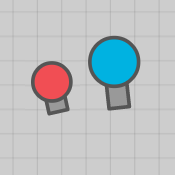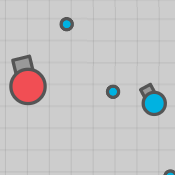 Factory Drones are smaller than Level 1 Tanks and have a similar appearance to the
Arena Closers
, but are much smaller than the Arena Closers and have slightly wider
Cannons
.
Technical
Stats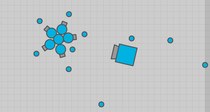 They are affected by these Stats:
Non-upgraded Factory Drones have roughly 8-12 health points. Their Bullets are about as large as the Gunner's Bullets. Their Body Damage is higher than a Drone's body damage; however, Factory Drones are approximately as slow as a Mothership. Upon contact with the walls of the Maze game mode, Factory Drones will die.
Behavior
The behavior and control of Factory Drones is similar to that of Drones, but slightly different in behavior as they do not chiefly use melee attacks.
When Auto Fire is off and there are no nearby available targets, they will orbit the player, similar to Drones but further from the player. They can still be forced to go in a certain direction by left-clicking or the Space bar.
When in Auto Fire mode, the Factory Drones will target where the player moves their mouse, and shoot away if the player right-clicks or uses Shift.
When Auto fire is on, and the cursor is placed on a polygon or a player, the Factory Drones will stay a certain distance away from the target.
History
Since November 19th, players on your team can spawn from the Factory, but they won't be Factory Drones, instead they will be players on your team.

This is only available in team gamemodes.
They ain't a real tank — Destroy 100 Factory drones
Trivia
Ad blocker interference detected!
Wikia is a free-to-use site that makes money from advertising. We have a modified experience for viewers using ad blockers

Wikia is not accessible if you've made further modifications. Remove the custom ad blocker rule(s) and the page will load as expected.