I'ma write my thoughts of life in general. DO NOT READ THIS UNLESS YOUR CERAIN YOU WANT TO. THE CONTENT BELOW IS ENTIRELY MY INNER THOUGHTS, NOT FILTERED, AND MAY BE OFFENSIVE.
If there is a army, why don't we just all go to isis and kill all the bastards srsly. Also when tf will isis die already burn them all on stakes and dance on their graves. Also god will trump grow a brain? He's freaking racist and sexist. Even his HAIR looks retarded. Let me show you: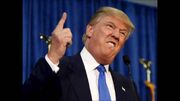 Not that hilLIEary is any better. No idea why either one was a canidate. And HOLY F*** ursuul is WAY too tyrannical is this even URSUUL??? The guy who came after i joined???? He's REALLY INTIMIDATING how he demotes everyone and has like infinite power. I'm honestly more scared of him now then rifleman. I don't know why i go on this wiki anymore. He has an iron fist and will seriously crush you into oblivion for sheerly being inactive. I can't imagine what would happen if he abused that power. Oh yeah also Aysha's life sucks, & is friends with SMG. Also why am i so skinny and gray-purple i  make slenderman look buff and healthy. Also I need a life. FFS, even Loren the random jerk-a-tron has a girlfriend. Then again, he's creepy and acts like an emo. Is someone actually reading this? Yeah i'm done for now.
My Deeper, Darker Thoughts.
Why do I exist? What's the point? We're all going to die someday. We just live for other to live and so on. But do we really get anything accomplished? Why was life made? It's almost like nature has a conciousness. Take adapting to your enviroment for example. Wouldn't you have to 'know' what you're doing when you're adapting to get anywhere? Why does pain exist? Why does death exist? They are the cancers of existence. Why doesn't everyone get justice? What is my purpose? I don't have any skills I can say are my own. As in, skills that I specifically am good at and other's aren't. Without one, I feel useless and powerless. I bet Zathus, Ursuul, and perhaps Aysha might read this part more.  I'm starting to think the world isn't worthy of me. Most people are violent, heartless freaks. who laugh after they've damaged someone physically and emotionally like it's no big deal. Just seeing the word xD feels like a taunt now. P.S while I'm writing this I'm soaked with tears. Why fight for a world like this? I'm begining to think justice is a lie. How can you be so emotionless? Laughing in the face of true tears? Well, it looks like my time on this wiki may be over soon. What have I done to deserve this? Why target me? Well, at least I stood up to this heartless monster. No matter where I go, no one can leave me alone. Why me? If I have to go down, put this twisted, sick monster to justice. 
Perhaps my final message.
Rifleman, you are NOTHING but a coward, bully, and a troll. I will NOT be made your little bargaining chip, today or EVER. You can threaten me, but in the end, what do you get? Amusement? Does it make you feel better about your sad, twisted existence? Heed this warning: I will NOT go down so easily. Leave now, or I will get you. You can only evade justice for so long. If I go down, I'll go down in honor. P.S Listen to me, Rifleman. I do not care about your threats. I do not care about your games. I only live to see you and others put to justice. -Edited quote of General Grievous.
Pick one this is a life decision but i won't tell you what.
What do you do when you meet someone?
Ad blocker interference detected!
Wikia is a free-to-use site that makes money from advertising. We have a modified experience for viewers using ad blockers

Wikia is not accessible if you've made further modifications. Remove the custom ad blocker rule(s) and the page will load as expected.